KS3 - Motion recap
speed, motion graphs,
Links for learning
Websites  Videos  Games  Quizzes
Key Words
Distance - how far an object has moved (a scalar quantity).
Displacement - measures the distance and direction in a straight line (a vector quantity).
Vectors - have a magnitude and direction.
Scalar - only have magnitude and no direction.
Speed/Velocity - how fast an object is going (speed is a scalar, velocity is a vector).
Typical speeds for everyday objects:
| | |
| --- | --- |
| walking - 1.5 m/s | car - 25 m/s |
| running - 3 m/s | train - 55 m/s |
| cycling - 6 m/s | plane - 250 m/s |
Acceleration - how quickly you're speeding up.
Uniform Acceleration - constant acceleration.
Distance-Time Graph - if an object moves in a straight line, its distance travelled can be plotted on a distance-time graph.
Velocity-Time Graph - when a object's velocity changes it can be plotted in on a velocity-time graph.
Friction - slow things down. It always acts in the opposite direction to the movement.
Drag - Increases as speed increases.
Terminal Velocity - Maximum speed an object will fall at. Maximum speed depends on the shape and area of an object.
Also see Forces, Force & Motion
---
---
EQUATION

Distance using speed & time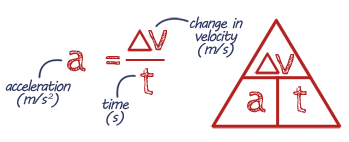 Print Equation flash card
How to print and use flash cards
Acceleration Worksheet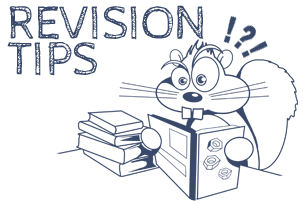 Find out what kind of learner you are and the best revision techniques for you.
Visit our Revision Tips page for more.